With all the excitement circulating around the Dancing With the Stars Season 24 Premiere last night, I wanted to say thank you SO much for tuning in and for the continued love and support we've received from all of the amazing DWTS fans! I was so excited to kick off the season, dust off my dancing shoes, and hit the ballroom dance floor once again with my partner, Chris as we danced the Cha Cha to "What is Love" by Haddaway.
What many of you don't know is it's not entirely glitz and glamour leading up to the big night of the premiere. I think it's so important to share how much hard work and dedication it truly takes for both the celebrities and the professionals during the whole process of the show. With that said, I'm so excited to share an exclusive behind-the-scenes look into what goes on during the weeks leading up to the big DWTS Premiere!
Rehearse, rehearse. Then rehearse again. Two weeks prior to the premiere Chris and I rehearse for about 5-6 hours a day, every day! It sounds pretty crazy but the goal is to make sure our celebrities don't even have to think about their steps when we're actually performing live on stage. The whole experience can be very overwhelming and stressful for them especially with all the lights and cameras, so we want to make sure they're as comfortable as possible. We dedicate so much time to rehearsing so the celebrities can perform their routines in their sleep and not have to think about their moves, especially when all the First Dance nerves start to settle in. Muscle memory is key!
The day before the live premiere is dedicated to camera blocking and you guessed it… more rehearsing! Camera blocking is SO important because it ensures that Chris and I, along with all the props and arrangements we use during the performance are exactly where they need to be for the many different camera angles. This is also really helpful because it allows the celebs to see what it's going to be like on actual show day and exactly where they are in the dance from the camera's point of view.
My call time the next morning was at 7am so after camera blocking, Chris and I rehearsed a couple more times and it was off to bed for an early night sleep!
I woke up yesterday feeling SO excited and ready for the long day ahead! After my full hair and makeup glam session (tutorial on that coming soon!) Chris and I headed to our final dress rehearsal before the live performance. One of the props for our dance was a huge disco ball with moving lights and Chris felt really disoriented because it made him feel like the floor was moving. I had to keep reminding him to not look at the floor! Lol.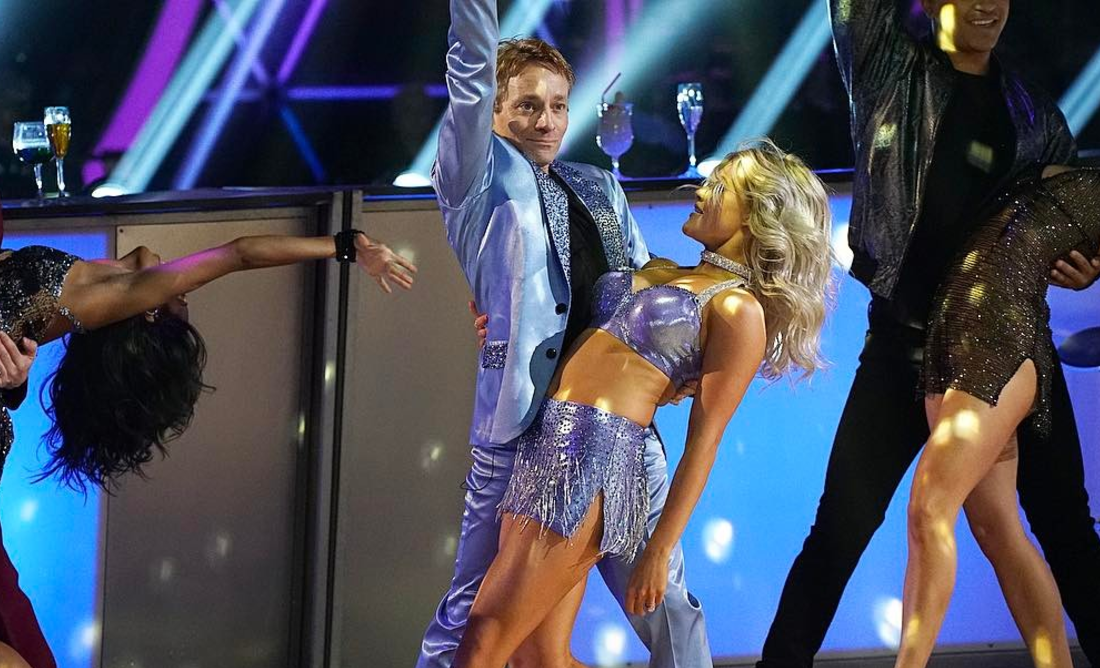 After a couple more tries and some reassurance Chris felt super confident and excited! I'm SO proud of him and it was great to see him really excited and ready to just have some fun out on the dance floor. When it came to the live performance, Chris nailed it and it was the best he's ever danced through the routine! Although the judges were a bit critical for the first week I know everyone loved to see Chris dance and his personality definitely shined through. Going into next week I really want to improve on technique and just focus on having as much fun as possible.
If you didn't get a chance to see Chris and I's Cha Cha performance from Monday night check out the clip below and stayed tuned next week for another recap of DWTS! I hope you loved it and I can't wait to share my favorite moments from this season with all of you!
Xoxo,
Witney