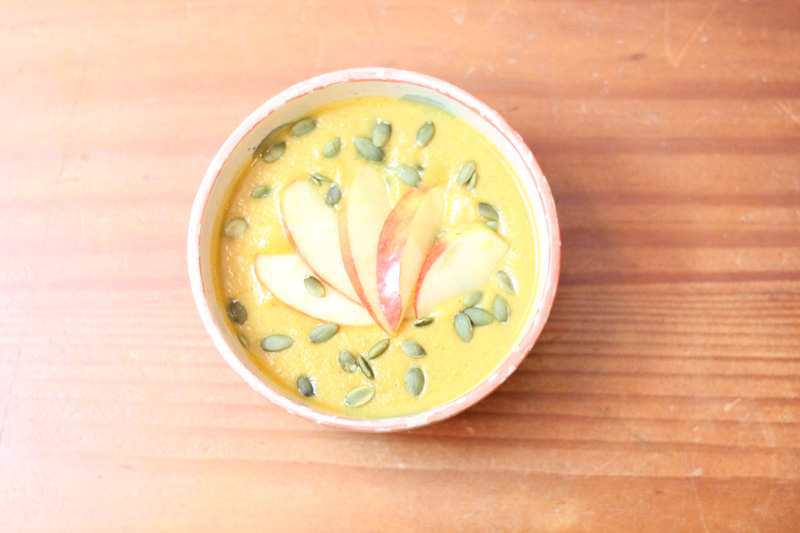 I love love love this butternut squash soup with cinnamon, apples and pumpkin seeds! I just had to share this! It is healthy, Dairy free and Gluten Free
Ingredients
5 cups butternut squash, peeled and cubed (after baking)
4 cups unsweetened almond milk
3 cups filtered water (add more water if you like it thinner)
1 large organic apple, about 1 cup (you favorite apple…I like red delicious)
½ cup organic carrot, chopped
¼ cup sweet onion, diced
2 large garlic cloves
2 large dates, pitted
2 tablespoons organic coconut oil or olive oil
2 teaspoons of ground cinnamon
1 teaspoon sea salt (to taste)
½ teaspoon ground black pepper
juice of 1 orange
Instructions
Preheat oven to 450 degrees F.
Line a baking sheet with foil and grease lightly with olive oil or coconut oil
Peel the butternut squash while whole until the thick skin has been removed.
After peeling, cut squash long ways (creating 2 halves).
Scoop the seeds from the wide end of the butternut squash, using a spoon.
Cut remaining butternut squash pieces into small 2 inch cubes.
Spread the cubed and peeled butternut squash cubes onto the lined and greased baking sheet.
Season with salt, pepper, garlic, and a bit of cinnamon.
Bake at 450 degrees for 30 minutes or until soft (about 45 min)
In a skillet, sauté the onions and garlic until soft
Add roasted butternut squash, sautéed onions and garlic and all remaining ingredients into a high speed blender, and blend until smooth and creamy.
Serve it Hot and Add Cashew Pieces, walnut, or my favorite pumpkin seeds on top.
Enjoy!