I'm so excited to start this Q&A Series with a couple of my fellow Professional babes from Dancing With The Stars! These ladies have been some of my biggest supporters and role models and have even become my lifelong friends. Behind all the glitter and glamour, there's an amazing group of women and I'm so honored to dance alongside them on this journey!
Today I'll be interviewing my smokin' hot British babe, Emma Slater. This season on DWTS she's partnered with football player, Rashad Jennings, and they've been absolutely ​killing it! Read along as Emma shares all about her favorite workouts, her idea of the perfect date with fiancé Sasha Farber, and her cringy "uh-oh moment" on the DWTS Tour. Take it away Emma!​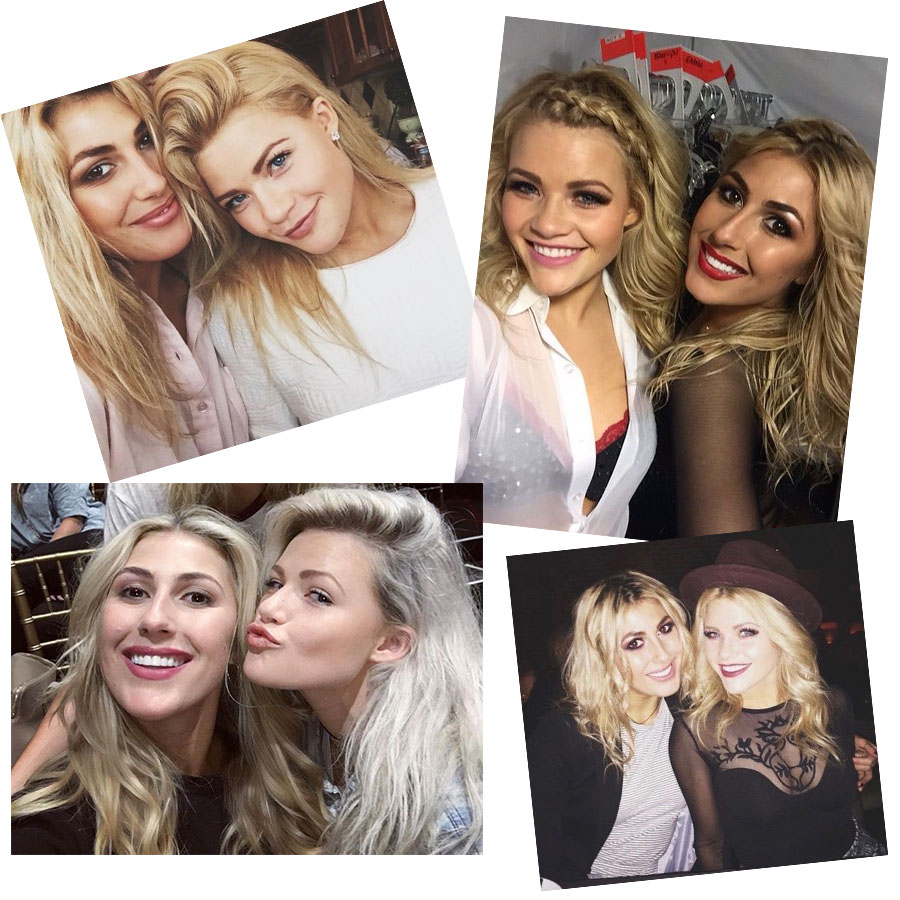 How long have you been professionally dancing?
I've been dancing for 18 years though my professional career started at 16 when I went on an English tour with a Ballroom Dancing theatre show called Simply Ballroom.
Favorite dance style to choreograph?
Viennese Waltz, Contemporary, Foxtrot, Argentine Tango. And Rumba (if it's with another Professional Dancer!) All the emotional ones! I'm very emotionally driven.
Any interesting pre-show rituals?
I go find my friend Bec in the Wardrobe department (she's also from Tamworth in England, where I'm from) before every dance and ask her why I'm not nervous. She responds with 'Because you're a Tamworth girl'. It's become a nerve calming ritual because Becs has the ability to pull my head out of the clouds when my minds racing and reminds me of my roots. Love ya Bec!
Favorite workout?
Dancing!! I love Yoga barre type workouts too. The lengthen my calves! Uphill walking and hiking I do a fair bit of, music is the one thing I must have to work out because then it's more like meditation for me rather than just working out. I couldn't do it without music. Lately my partner Rashad has been going through NFL warm ups with me before rehearsal and I LOVE them!
Your go-to power meal (healthy meal)?
Honestly, I'm a salad and fish person. I will eat just a basic leafy salad with an Asian dressing. I also like raw veggies with hummus, but not celery because I hate the aftertaste! I do mostly smoothies though during the season. Almond milk, banana, kale, spirtulina, Apple and plant based protein.
Guilty pleasure food/snack?
Popcorn! Movie style. Gosh there's nothing better than seeing a great film with Sash or the girls, and having a massive tub of popcorn on your lap. Even if the film is bad, I'm still really happy! I get the popcorn, Sash gets the peanut M&Ms. Everyone's happy.
Favorite dance routine ever choreographed on the show so far?
It's my Contemporary Routine with Rashad Jennings, we performed it quite recently. The dance was dedicated to his Dad and represented the very unique relationship Rashad had with his Dad. My role in the dance was to represent his Father, damaged and blocking out love. Rashad represented himself, unconditionally loving his Dad even through the times his Dad tried to turn him away. I choreographed with that in mind. In the dance, I would always try to escape closeness and confrontation but Rashad would persevere with nurturing moves me and continue to lift me up, reflecting in life how he consistently did not give up on his Dad through the dark times.
Worst wardrobe malfunction/"uh oh" moment on the show?
I haven't really had one on the TV show but I have had a cringy one on the DWTS 'We Came to Dance' Tour. I was dancing a Rumba with Keo and one of my dress straps just pinged off its clasp at the very top of the routine. In my head I was so shocked but didn't want to go off so I held the strap with my hand the whole time! Keo was the best, he's such a gentleman to dance with that he guided me using my only my free hand and I don't know how we managed it but we still did the lifts!! Hahaha we laughed about it off stage because it was not a romantic rumba at all!
What would be your theme song for your everyday life?
I have two but I can't tell you the first one because I selfishly want to keep that one just for Sash & I, sorry! But I do really love Hall & Oates 'You make my dream come true' it's an oldie but a goodie!
What was YOUR most memorable year?
My most memorable year by far was last year, 2016. I got engaged to the love of my life Sasha Farber, we bought our first home together (which is an English cottage!), and we adopted our little dog Ruby whom we both adore to the max. It all happened at once and at the end of that year I just remember thinking wow. How can I top that?!
Describe the perfect date.
Wake up on a day off, quickly shower and get out the house straightaway. Get in the car and drive to our local breakfast spot, Food Lab! It might seem boring to always go there but it feels so relaxing because it's quite European so feels like home! Then just drive to somewhere new. Maybe a beach town, or a fun flea market or even just a beautiful walk in the countryside. I love to explore. Could spend the whole day just finding new things. I like being adventurous and spontaneous. I enjoy the little things so I don't need an over the top fancy date with lots of bells and whistles for me to be really into the guy. I'm not flashy so an extreme lavish lifestyle would get boring to me after a while if I wasn't also able to take time for the little things in life, because that's where I believe raw beauty is. And now I've found my forever guy, we are always so aware that our perfect date can be everyday because of the little things we do together.
Go to outfit:
Blazer!!!! Oh heavenly Blazers how I love them. And I have LOADS! Im a blazer hoarder. Through on some funky patchwork jeans or cigarette cut (tapered) plaid trousers, a plain or slightly textured crop tee of a lighter colour, then add your blazer and some kick ass staple heeled boots with some metal hardware and you're good to go!! I like the new romantic era of the 80s meets tailored European clean lines. Fashion interests me a lot and I figured it's because it's another form of self expression like dancing.
​Check out Rashad and Emma's absolutely breathtaking performance on last week's episode of DWTS! Such an amazing tribute ​to Rashad's dad, love you Emma!
Xoxo,
Witney