Hi Everyone!
Who else struggles with shopping for their father? Last year, I got my father a plastic-free gift. He's really eco-friendly so I found a website with a great selection of plastic-free gifts and decided to buy a few bits for him! He liked the reusable coffee cup best but this year I'm struggling to decide what to get. With Father's Day coming up this Sunday, I created a Father's Day gift guide for all those who need some inspiration for what to get their dad. I love spending the day with my dad and enjoying quality time together. No matter what you decide to get your father, nothing beats showing love through spending time together. Of course, a good gift will never go amiss either. So, if you're father is a big technology enthusiast, you may want to have a look at something like DJI Drones as this could really make his Father's Day a spectacular day to remember.
23andMe: 23andMe is a perfect gift for Father's Day. This ancestry test allows you to trace your father's DNA and break down your ancestry and genetics. This is a super interesting gift to give and lets the whole family connect together.
Nike Running Free Run 2018 Flyknit Sneakers: Sneakers are always a great gift for dad. Whether your dad is sporty or not, these are a staple item in any wardrobe.
Cathys Concepts Cathy's Concepts Bamboo & Slate Craft Beer Tasting Flight: If you're looking for a unique gift to give your dad, this is it. I love this chalkboard tasting flight. It's perfect for parties and family gatherings.
An Electric Scooter: If your father lives in a big city then a scooter is the perfect way for him to get around! He won't want to walk miles each day or have to deal with the crowded subway when he can just make his way around on an electric scooter. Take a look on eRideHero to find the perfect scooter for him.
D.R. Harris Arlington Shaving Kit: This set is perfect to keep your father well groomed. The set includes soap, aftershave, razor, and hairbrush.
Beats by Dr. Dre Studio 3 Noise-Cancelling Wireless Headphones: I love Beats for myself, so why not give them to your dad as well. These are my favorite headphones and make a great gift for your dad to use at the gym or when working out. You could also look at sites like Anax Fitness that offer such a wide range of gym-wear and accessories to go along with the Beats!
Tile Combo Item Tracker Pack: If anyone has a father who misplaces his items, then this product is a must. Gift this to dad to help him keep track of his keys, phone, wallet, and more.
Apple Watch Series 3 (Gps + Cellular): An Apple Watch is an amazing tech gift to give your father. Essential for keeping in touch, keeping track of time, and keeping fit- the Apple Watch does it all.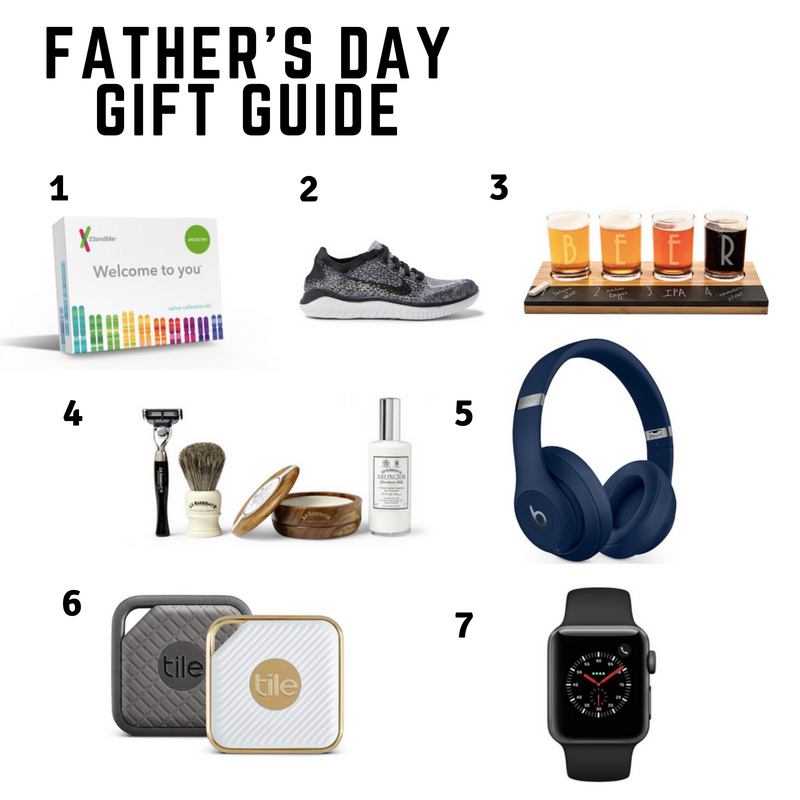 Let me know how you plan to spend your Father's Day and happy Father's Day to all the dads out there!