I'm sure you've heard me going on and on about how excited I am to be returning to Dancing With the Stars' 25th season! It's going to be such an amazing season, and I can't wait for you to tune in and see me and my awesome partner, Frankie Muniz own the dance floor! You can catch the premiere on September 18th on ABC.
As fun as this process is, it's always a challenge getting back into the grind of rehearsals and early morning wake up calls. At times it can get physically and mentally draining, and I'm constantly looking for new ways to find balance in my (now hectic) everyday life, and different methods to unwind and de-stress. There are so many things I use every day to help keep my mind and body in workable conditions, like finding comfort in my portable foot massage machine that I take everywhere with me so I can relax my aching dancer feet! Knowing that so many of you babes are overachieving and working SO hard to crush those goals, I've decided to share some of my favorite routines for taking care of your sweet self after a long day of giving life your ALL. I know that you all deserve a Massage Sway – Day Spa (and should definitely indulge yourself once in a while) but here are some every day things you can use to unwind!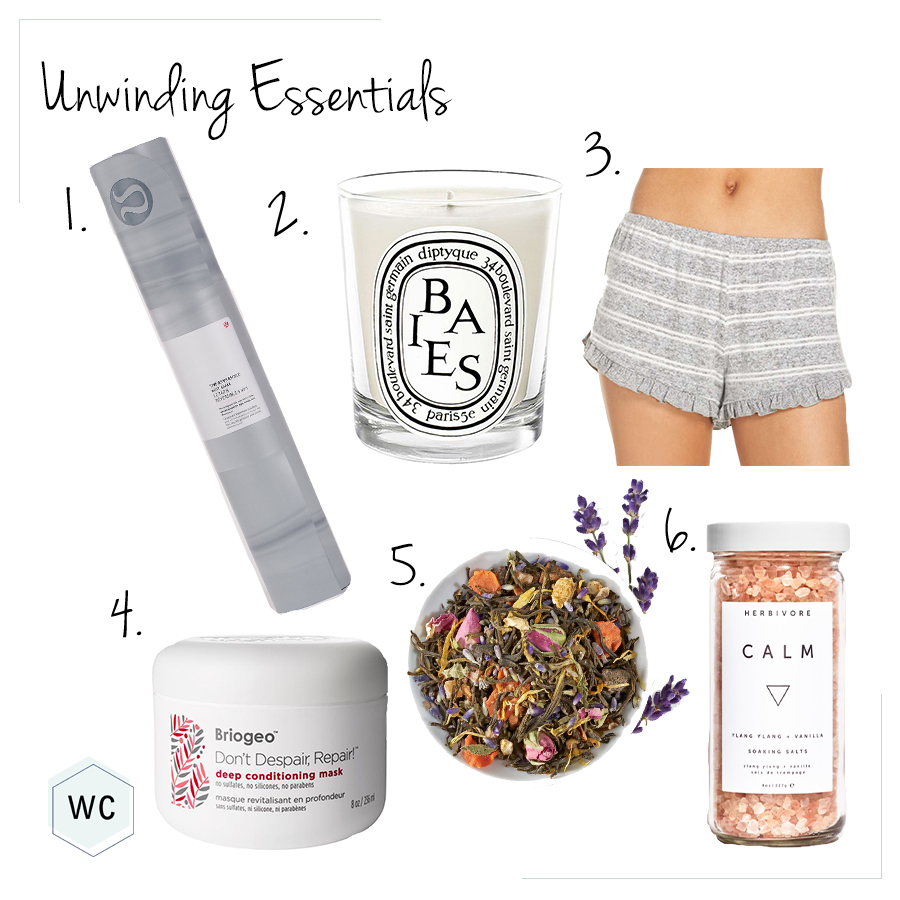 1. Lululmeon reversible yoga mat
Growing up in the world of dance, taking some serious time to stretch was always very important. Because of this, I always have a yoga mat rolled out somewhere in my house as a welcoming spot to zone in and stretch it out. It's so important to give your hardworking muscles some love after hours of dancing or working out. I'm a huge fan of lululemon's mats because they are perfectly padded, anti-slip, and reversible – so you get two colors in one! Plus, they're made out of material from recycled yoga pants! What's not to love?
2. Diptyque Baies scented candle
These tiny french candles are packed with the most dreamy combinations of scents, and come in the classiest little jars. This flavor is my favorite by far, and fills the room with a relaxing air of berries and citrus – I want this baby burning 24/7! If, like me, you love all things candle related, then you can also find some more fun unwinding essentials over at Grainandgram.com – click here to see the full range of their unique products.
3. Cozy ruffle shorts
Who's like me and wants to take off every layer of clothing they've got on the second they walk through the door? Yeah it's a thing. I'm obsessed with comfy little shorts like these, they're the perfect thing to slip into when you just cannot with pants anymore.
4. Briogeo DDR Hair Mask
When DWTS season rolls around, I really start to up my haircare game. All those hot tools and hairspray used on the daily to create my performance looks are great, but take a definite toll on my hair's overall health. I am always hunting for new products and looking to buy haircare products online so any recommendations are always welcomed! However, recently I have been loving brands like Briogeo are ideal because the products are crafted from natural ingredients that gently bring your hair back to life after being handled and styled regularly. This hair mask is amazing and drenches my scalp + strands with much needed moisture and guards against damage from all that heat!
5. Teavana Lavender Creme Herbal Tea
With the colder seasons right around the corner, I start to daydream about cozy evenings on the sofa with Carson and Roxy, sipping on a mug of comforting herbal tea. I love the Lavender Creme Tea from Teavana because it's caffeine free and the yummy lavender flavor promotes relaxation and sleep. Yes, please!
6. Herbivore Botanicals Calm Bath Salts
Nothing says self-care more than putting your feet up and sinking into a toasty hot bubble bath. Whether it's a bath bomb or rose petals, I am constantly on the hunt for fun, relaxing additions to bath time like these calming pink salts by Herbivore Botanicals. The floral and vanilla scent is absolute heaven, and turns this nighttime ritual into a necessary, detoxifying routine.
Have the greatest time taking care of yourself, babes! Have any more unwinding suggestions? I'd love to hear about them! Comment below 🙂
xoxo,
Witney