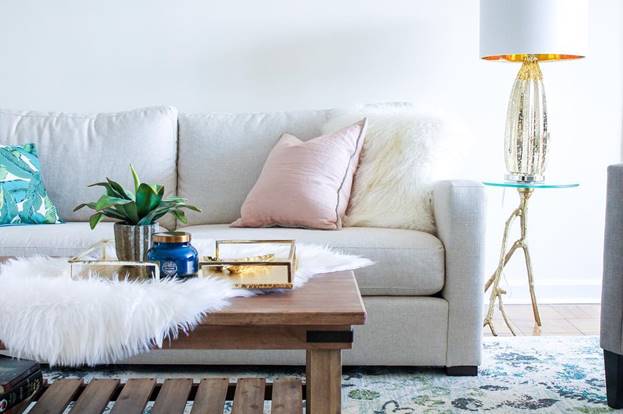 So happy to be sharing a long-awaited post about my living room with Lulu & Georgia! As much as I love traveling and visiting amazing places, there's nothing that replaces the feeling of being home. Whether you have a family room or a living room (maybe both, a family room vs living room debate may rear its head), then you know how enjoyable it can be when you're in it after a long day.
In an attempt to make our place in Los Angeles feel as cozy as possible, we teamed up with Lulu & Georgia to bring out some relaxed California vibes. I started off by choosing this rug, which I LOVE, but what I loved more was that it was so affordable for such a large size! Our space needed the 8 x 11. You can find this style, or something very similar in almost any rug shop as it has become somewhat trendy in the home design world.
Once I locked down the base, the next big thing to tackle was the furniture. I decided to go with gold accents (the best!), so I chose the Coco Table Lamp to go on top of the Mirza Side Table and Nicolina Mirrored Glass Console Table. The couch was from Crate & Barrel and the coffee table World Market.
Knowing that my space was a little muted and more neutral, I decided to go with fun colors for the pillows! I chose the banana palm pillow and Raeburn Pillow in Subtle Peach. I also chose the Shyla Pillow (not pictured) to add even more elements of gold.
Also, does anyone else want to snuggle next to the fur pillow or the sheepskin?!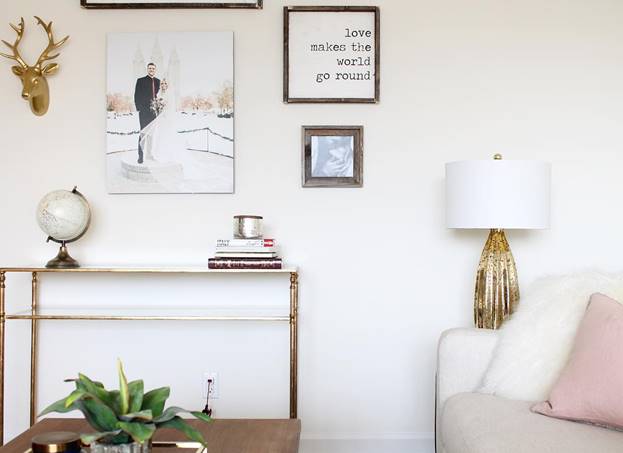 Home wouldn't have really felt like home if we didn't have memories of our best moments. I absolutely love the "Love Makes the World Go Round" sign that Jaxn Blvd was able to put together next to two of our favorite wedding photos.
Our living room is still a work in progress, especially since we're constantly traveling! But I'm excited to work add in the finishing touches and show you guys the final result!
Things I love and would incorporate into my space:
• Bree Madden Ombre Beach Photography Print
• Banana Palm Pillow
• Pawl Throw, Sea Glass
• Chalmer Deer Head, White
• Oro Globe